Passionate About Nursing Jobs in Australia?
The Aged Care Industry Labour Agreement (ILA) is a vital Australian Government initiative to tackle workforce shortages in the healthcare sector. The agreement streamlines the recruitment of qualified direct care workers from overseas to work in the nursing industry in Australia.
If you're ready to turn your dream of a nursing career in Australia into a reality, New Beginnings Skills is here to help you every step of the way. Whether you're a qualified nursing professional seeking opportunities or someone looking to begin their journey in nursing, come and explore the possibilities with us.
Key Visa Application Requirements
hold a relevant AQF Certificate III or equivalent, or higher qualification. You can also have 12 months of relevant work experience or part time equivalence.
obtain a positive skills assessment from the Australian Nursing and Midwifery Accreditation Council or the Australian Community Workers Association if you obtained your qualifications overseas. This also applies if you claim work experience in lieu of the formal qualifications.
have an English language proficiency level of at least IELTS 5.0 or equivalent. Workers with target community language skills employed by culturally and linguistically diverse aged care providers need at least IELTS 4.5 or equivalent.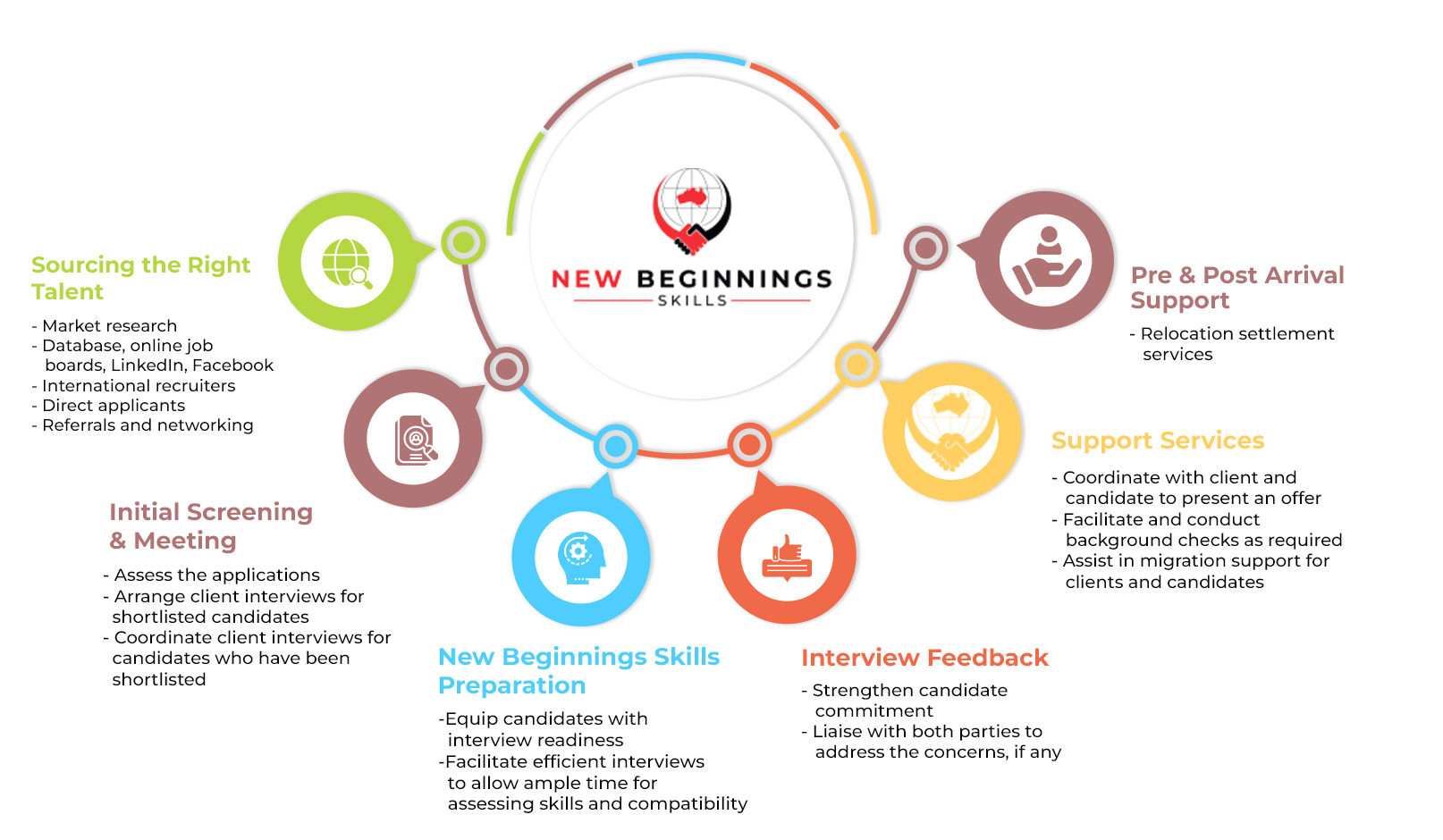 Different Sectors We Work With
Road Transport & Logistics
Public Transport
Manufacturing
Construction
Waste & Circular Economy
Property Services
Aviation
Agriculture
Utilities & Energy
Minerals & Resources
Information & Communication Technology
Health & Aged Care
Financial Services
Retail
E-Commerce
Education
Public Administration
Professional Services
Tourism & Hospitality
Managing Director Paul Birch is originally from the UK and has more than 35 years of experience working for major corporations in Human Resources, Health & Safety, Corporate Communications, and Ethics & Compliance. It includes 25 years as a C Suite Executive with Global and Regional responsibilities.
New Beginnings Skills is establishing a network of partners/affiliates in Australia, India, China, Sri Lanka, and the Philippines. New countries will be added to our network during 2023 to include New Zealand, UK, Thailand & United Arab Emirates. All our Australian and overseas partners are successful leaders and organisations.
Paul has lived and worked in the UK, Australia, India, and UAE and has held responsibilities covering multiple countries. His industry sector experience includes Manufacturing, Agribusiness, Airlines, Oil & Gas, EPC, and Multi-Modal Public Transport.
During his career, he has led recruitment teams responsible for large-scale domestic and international sourcing. He has conducted international recruitment for all levels, including CEO, MD, Executive, and General Management positions. During his years in the industry, Paul has established extensive international and domestic networks and connections whom he can call upon to support the business.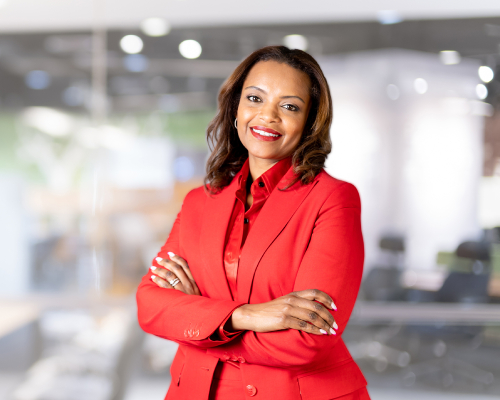 Director Rahel Birch, originally from Ethiopia, has lived and worked in the UAE and Australia and has more than 15 years of experience working for international Retail and Airline brands. She was a Cabin Crew Manager during her nine years with Etihad International Airline in the UAE. She has experience in being trained and working at the highest levels of customer service, hospitality, safety, and team leadership. Rahel has travelled extensively with her work and is multilingual.
Srini Srinivasan, originally from India and based in Melbourne, Australia is a very experienced international Human Resources Executive who has worked for large Australian and international organisations across diverse sectors including manufacturing, aviation, banking, brewing and public transport.
A highly regarded professional, Srini is an accredited change manager and situational leader having held regional responsibilities covering executive and leadership sourcing, large scale recruitment, business transformation, M&A and transitions, leading bidding workstreams for major tenders, developing performance, reward & recognition frameworks, operating model design & re-engineering processes, project managing key programs roll-out including HRIS and payroll system implementation.
We are committed to doing things the right way. If something is not legal or ethical, we will not do it.
Professionalism is key to all our operations. We are highly client and candidate focused in all our operations.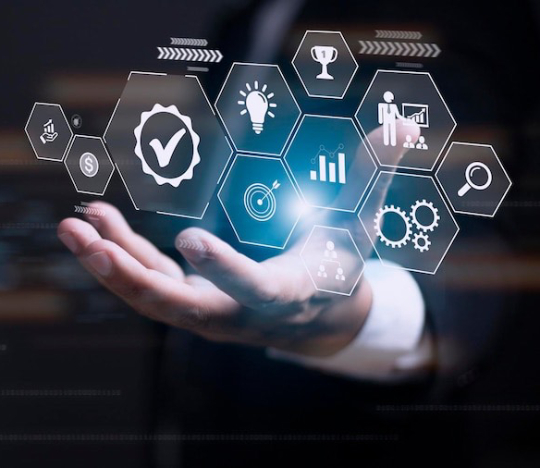 We understand the needs of a constantly changing and evolving environment. We will continuously challenge ourselves to improve and innovate.
Our Managing Director, Paul Birch, has more than 35 years of experience working for major international corporations.
We are passionate about what we do and dedicated to helping our Clients find the right candidates.
How to Become a Registered Nurse in Australia
For international Nurses aiming to secure Nursing positions in Australia, the initial course of action is to seek a trustworthy and esteemed recruitment agency. At New Beginnings Skills, we are recognised as one of the top nursing recruitment agencies in Australia, and are completely ready to support you in your pursuit of nursing job prospects. Working with our team comes with its own set of benefits. Owing to our established network in the Australian healthcare industry, we have a plethora of job opportunities to offer.
To initiate the procedure, it's crucial to ensure that you satisfy the preconditions for nursing roles in Australia. It entails possessing an authentic nursing registration or permit in your native land, allowing you to secure registration with the Australian Health Practitioner Regulation Agency (AHPRA). Upon gaining registration with AHPRA, you are legally permitted to operate as a nurse in Australia.
Following should be your next steps – Submit your application along with your resume to our recruitment agency in Australia. We will then evaluate your qualifications and professional experience to gauge your compatibility for the available positions. Once you clear all prerequisites, we will assist you throughout the entire process. This would include the procurement of necessary paperwork like visas and work permits.
Qualifications and Documents for Nursing Jobs in Australia
In order to apply for a nursing job in Australia, it is essential that you have certain qualifications and documents. These include:
A Nursing Degree or Diploma: This is necessary to practice as a nurse in Australia. Your nursing degree or diploma must come from a recognized institution. During the job application process, prepare to present a verified copy of your said degree or diploma.
Nursing Registration: It is a requirement in Australia that before performing duties as a nurse, you should be registered with the Australian Health Practitioner Regulation Agency (AHPRA). AHPRA oversees the regulation and registration of all health practitioners in the country, including nurses. Therefore, you should be ready to provide your registration evidence when going for a job application.
Qualification Comparability: This qualification needs to be on par with an Australian bachelor's degree. Additionally, it must include a minimum of 800 hours of practical experience in various health care environments.
Work Review & Recognition: A regular evaluation of the individual's work is necessary, with official recognition from a nursing regulatory body outside of Australia. This body's accreditation standards must be equivalent to those in Australia.
English Language Proficiency: English being the official language in Australia, it is crucial that you show competency in it. This can be proved by taking and passing an English language assessment like the International English Language Testing System (IELTS) or the Occupational English Test (OET).
Relevant Work Experience: Employers in Australia lean towards hiring nurses with necessary work experience. You should prepare a comprehensive and current resume detailing your previous employment history. Include your employer's name, employment period, and specifics of your professional responsibilities.
Education Institute Certificate: A certificate is required from a recognized educational institution. This document must be a proof of assessment completion in medication management and administration.
Remember, the prerequisites for nursing careers in Australia differ according to the employer and the geographical area of the job. By assembling these crucial documents, you are setting up a foundation to enhance your chances of securing a nursing job in Australia.
At New Beginnings Skills, we are dedicated to assisting overseas nurses to explore rewarding opportunities in Australia. Our team comprises experienced recruiters who will guide you throughout the application process and help you acquire a job that aligns with your career objectives.
Language Requirements for Foreign Nurses in Australia
For nurses from overseas who are considering a nursing career in Australia, it is necessary to pass certain language tests as part of the essential requirements for registration. These include the following English proficiency exams:
International English Language Testing System (IELTS)
Occupational English Test (OET)
Pearson Test of English Academic (PTE Academic)
Test of English as a Foreign Language Internet-based Test (TOEFL iBT)
Although the exact minimum score needed for each exam can vary depending on the specific healthcare profession, the nursing field generally has standardized requirements. These include an overall band score of 7.0 or higher in IELTS, a minimum 'B' grade across all four sections of the OET and a score of 65 or above in the PTE Academic.
It's important to note that these language proficiency exams are not optional.
Furthermore, it is obligatory for overseas nurses to have their nursing credentials evaluated by the Australian Nursing and Midwifery Accreditation Council (ANMAC). This process ensures validation of their qualifications as per Australian work standards. The scrutiny involves a thorough check of their educational background, licensing, and professional experience in overseas.
Upon completion of their language proficiency tests and nursing qualification verifications, these nurses become eligible to apply for registration with the Australian Health Practitioner Regulation Agency (AHPRA). After obtaining registration, they can explore job opportunities in Australia's competitive nursing field. Exceptional communication skills, relevant work experience, and strong work ethics can significantly improve their prospects for securing a job.
Criteria for Registration Standards
An overall score of 7 or at least 7 in each component of IELTS (International English Language Testing System) OR
An overall score of 65+ in PTE (Pearson Test of English) Academic OR
An overall score of 88 in TOEFL (iBT) (Test of English as a Foreign Language)
Demonstrate NMBA (Nursing and Midwifery Board of Australia) that the professionals' skills and knowledge are up to date by meeting the recency of practice registration standard.
Have criminal history checked based on different factors like nature of offence (if committed any), pending charges or sentence served, etc.
Note: If you are not eligible to apply for registration, AHPRA will recommend you a bridging program named – OBA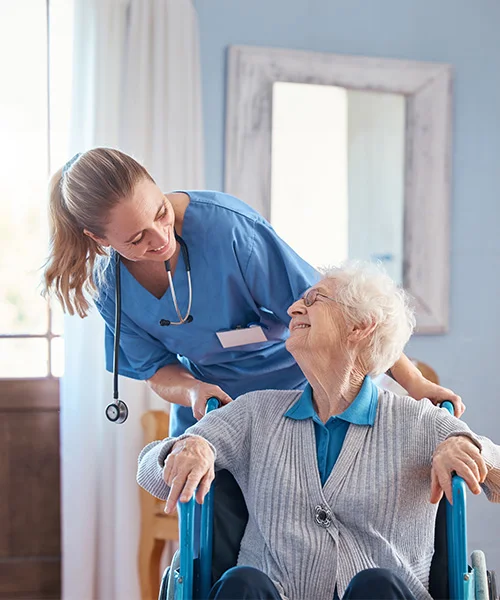 The Outcome-Based Assessment (OBA) program for overseas nurses with the new registration process introduced by AHPRA, the previously established IRON program has been superseded by the Outcome-Based Assessment (OBA) for internationally qualified nurses and midwives seeking to begin practicing in Australia.
The purpose of the OBA is to evaluate the nursing skills of established and qualified health professionals against Australian standards. This two-step assessment includes a multiple-choice questions exam (NCLEX) for the first stage and an objective structured clinical examination (OSCE) for the second stage. Successful completion of this assessment will allow you to obtain your registration as a nurse in Australia, enhancing your skills and knowledge to the level required by the Australian nursing health force. The OBA assessment not only increases your job prospects but also provides an initial, secure pathway towards achieving Permanent Residency (PR).
OBA Application Requirements
In order to take the OBA, each applicant is required to obtain a referral letter from AHPRA. The eligibility of the applicant is assessed by AHPRA based on five key registration criteria stipulated by NMBA:
Criminal background
English proficiency standards
Continuous professional growth
Current practice
Professional liability insurance
Upon evaluating your application, AHPRA will provide a referral letter to proceed with the OBA. The candidate is then eligible to move forward with the OBA process upon receipt of the referral letter from AHPRA.
Understanding the RN OSCE Exam
The Registered Nurse Objective Structured Clinical Examination (RN OSCE) refers to a practical test designed for international registered nurses seeking to be licensed in Australia.
Despite being referred to as an OSCE, this test is regulatory in nature rather than purely educational. This means it upholds a consistent procedure and format for all applicants.
In order to take up a position as Registered Nurse in Australia, here are the necessary measures:
Register successfully with the AHPRA. Post this registration, one can proceed to apply for a visa through the Department of Home Affairs, which would confer work rights.
It's crucial to ascertain the visa that suits your criteria. Also ensure, the visa application should correctly align with immigration laws.
The Purpose of the Aged Care Industry Labour Agreement
The employer will use the Aged Care Industry Labour Agreement to:
Sponsor overseas workers for the Temporary Skill Shortage (subclass 482) visa in direct care occupations such as:

Nursing Support Worker
Personal Care Assistant
Aged or Disabled Carer

Sponsor overseas workers for permanent residence under the Employer Nomination Scheme (subclass 186) visa program. Workers must have at least two years of full-time work experience in Australia in a relevant direct care occupation. The two years of work experience is not tied to a particular employer or visa subclass.